Arts at St Mary's Church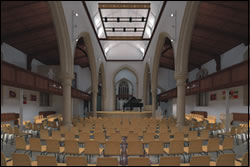 Revelation St Mary's was a major cultural project for Ashford to both refurbish one of the town's best loved historic landmarks and to boost the borough's arts offer.
For many years, St Mary the Virgin C of E Church (mentioned in the Doomsday book) has functioned as both a place of worship in the town centre and a community arts venue, hosting performances each year from local and international artists.
The Church of England carried out substantial refurbishment work to the building's ancient fabric, and to sympathetically expand its use as an arts venue, while maintaining its function as a place of worship.
Taking inspiration from Union Chapel in Islington and St George's Church in Brighton, the church was 'reordered' to create a more flexible space for religious sermons and ceremonies, as well as music, drama, and arts events.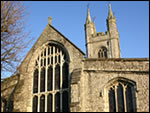 Improvements include a new LED lighting rig, more toilets, under-floor heating, new glazed doors to the north entrance, more comfortable and moveable seating for upto 350 people, and improved disabled access.
The project was also awarded European Union funding, through the Green Renovation Cluster programme (Greenov), to install a rainwater harvesting system and a ground source heat pump which will substnatial reduce the building's energy consumption and carbon emissions. The £1.7m project was awarded £1.2m of Growth Area Funding by the Ashford's Future
Work was completed summer 2011, and the Revelation St Mary's arts programme has continued to grow since then with performances from renowned folk, jazz, pop and classical artists.
Full details of performances at St Mary's Church can be found at http://www.revelationstmarys.co.uk/

Arts at St Mary's is promoted and supported by the church congretgation, Ashford Borough Council, the Parochial Church Council, The Bishop of Dover, Town Centre Partnership and statutory agencies such as the DAC, English Heritage, Arts Council England, and Historic Churches Trust.