Ashford Gateway Plus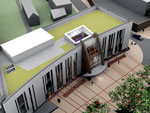 Ashford Gateway Plus is an iconic new building for Ashford, housing a library, a wide range of community services and a new civil ceremony venue all under one roof.
Ashford Gateway Plus is a joint scheme between Kent County Council and Ashford Borough Council, and saw the outdated library demolished and replaced with an iconic new building, housing a bigger library and a range of public services, including a register office and cafe.
Ashford Gateway Plus was delivered at a cost of £7.56m, including £1.95m of Growth Area Funding from Ashford's Future.
It also features the first green roof on a public building in Ashford, as part of energy efficiency measures funded by the European Union's Greenov scheme.
Gateway Plus offers the following services:
Full library facilities
Civil ceremonies
Adult education courses
Voluntary services
Citizens Advice Bureau
Social Services
Registration of births and deaths
Free internet access
Cafe

In addition, the new Gateway will also offer the full range of Ashford Borough Council customer services currently offered at the Civic Centre, including:
Council tax
Housing and benefits advice
Environmental services including environmental health, waste collection and licensing
Planning & development and building control
Parking services
Land charges
Cultural services
Electoral services
For more information, visit www.kent.gov.uk/ashfordgatewayplus